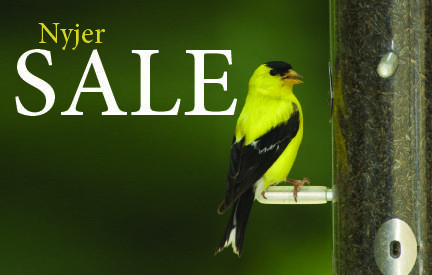 A Sure Sign of Spring...Goldfinch Molting!
It's finally that time of year when the male Goldfinch molts into his bright yellow plumage to attract the ladies! The process of losing and regrowing all of their feathers takes a lot of energy. Goldfinch benefit when they have access to the high fat and protein that Thistle/Nyjer has to offer. Stop in now through March 23 and save 15% on all sizes of thistle. DSC members save an additional 5% off the sale price of all bird food.
15% OFF All Thistle & Get a FREE 5# Bag of Thistle
with the Purchase of a WBU Thistle Feeder
*Valid only at the participating store(s) listed. One discount per purchase. Offer not valid on previous purchases, gift cards, optics, DSC memberships or sale items. Offer valid now thru 3/23/2017
WBU Quick-Clean™ Finch Feeder
Our Quick-Clean™ Finch Feeders are designed to make life a little simpler for your birds and you. The reinforced metal feed ports make it easy for finches to dine on Nyjer® (thistle), while the removable base makes cleaning a breeze. These feeders come in a variety of colors and are backed by a lifetime guarantee that includes squirrel and raccoon damage.
We also offer a variety of accessories including trays and weather guards.