We Are Looking For Sales Associates Who Are FOR the Birds!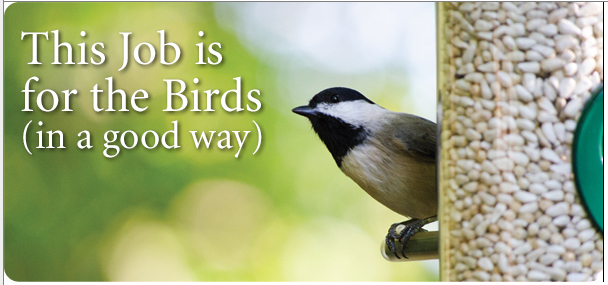 You've shopped at our stores, so you know the difference between Wild Birds Unlimited and other retailers goes far beyond what we sell. It's who we are. Enthusiasm, professionalism, informed advice and superior customer service are the hallmarks of our staff.
Working at Wild Birds Unlimited in Springboro is an opportunity to support and educate our friendly customers about birds and nature.
Our Sales Associates work with the owner and other staff to bring to life the store's mission – "We Bring People and Nature Together®…And We Do It With Excellence!"
The support and training that we provide to our Sales Associates will enable you to function confidently in this specialty retail environment. We offer a competitive wage, great employee discounts, and a pleasant working environment.
Our goal is to provide quality products, service, expertise and a high energy shopping experience. Help customers bring nature into their own backyards and lives. Come join our team!
Work Environment:
Commitment To The Hobby Of Bird Feeding
Appreciation Of Nature
Interact With Great Customers
Positive, Professional Work Environment
High Standards Of Business Ethics
Training:
Complete Backyard Birdfeeding Training
Complete Retail Training
Sales Training
Benefits:
Competitive Wage
Fabulous Employee Discount
Flexible Hours
Recognition And Appreciation

Interested, or know someone who might be a good fit?
Fill out the attached application, send it [email protected], or drop it off at our Springboro or West Chester stores. Qualified candidates will be contacted for interviews.
734 North Main Street in Springboro, next to Dorothy Lane Market