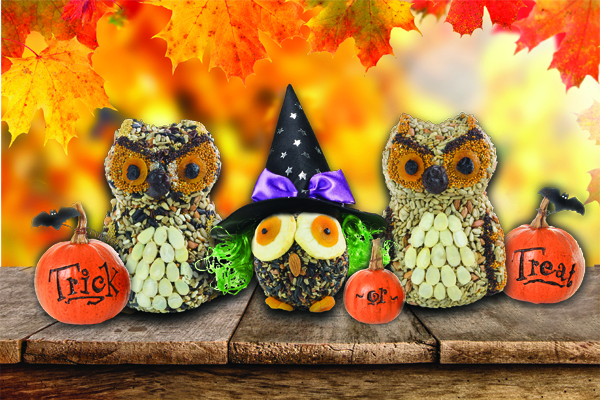 HAPPY OWL-O-WEEN!
Our newest seed characters have arrived and they are just in time for 'Owl-o-ween'!
Meet Screech & Olive, our cutest (and tastiest;) characters yet! Available only at Wild Birds Unlimited, we offer a variety of seed characters that are a fun addition to any bird feeding station. They can help you attract many of your favorite backyard birds, including cardinals, chickadees, woodpeckers and goldfinches.
If 'Owl-o-ween' is near then you know it's time for our Get Ready for Winter Sale!
There are several ways to prepare your yard now to help your visiting birds during the coldest time of year.
Evaluate the condition of your feeders. Can they hold up for the winter?
Consider adding cylinders, like Screech & Olive - they last a long time, are so easy to use & birds love 'em!
Juncos, White-crowned Sparrows, and White-throated Sparrows are a few of the migrants that winter here. They prefer to eat at ground level. Throw a hot pepper cylinder in a ground feeder (On Sale Now) to keep squirrels away and let the birds feast!
Bump up your seed to include tree nuts, fruits, and Bark Butter Bits, with one of our Plus Blends (On Sale Now!). The extra fat and protein will benefit our feathered friends on cold winter nights!
Add a pole system close to your house, making trudging out in the snow easier! All Advanced Pole System parts and setups are on sale now!
Add a heated bird bath that will keep water available to your birds, even in freezing weather.
Clean out bird houses and add new for next year. In cold weathers birds can use the nest boxes to take shelter from the cold, wind & snow!
Join us for our Live Bird Meet & Greets! See live owls, penguins, and much more!
In conjunction with the Cincinnati Zoo and Glen Helen Raptor Center we invite you to learn more about a variety of birds. These great organizations do so much to help hurt and endangered wildlife. The events are free, and if you donate $20 to one of these organizations, on the day of the event, we'll give you a $10 Owl-buck (just like cash) to use on any regular priced item.
- In West Chester,October 14th at 9am with the Cincinnati Zoo
- In Springboro, November 4th at 9am with Glen Helen Raptor Center