How to Register on MyWBU
First head to springboro.wbu.com, then click on the yellow shop now box in the top right corner. If you are having difficulty it may be a good idea to open the link in a new tab so that you may follow along with the rest of the instructions.
The next step is very important, especially if you are in the Daily Savings Club. You will need to register the email that you receive our store promotions on to receive your DSC discount when shopping online.

If you would like to use a different email to register or are uncertain of the email we have on file, please call us at 937-748-8979, so that we may assist you in making this process as easy as possible. If you register a new account that uses an email that does not match the email we have in our system, we can take care of merging the accounts.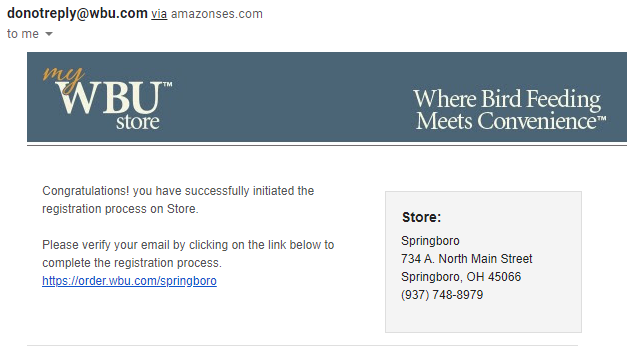 This will trigger an email to the account that you used to register.
Open your email and find the email from

[email protected]

. You will be congratulated for successfully completing the registration process.
Finally, verify your email by clicking on the blue link that will redirect you to our store site, where you can now place your order on your account that is connected to your DSC account!
We understand that this process can be confusing, so if you need any additional assistance in setting up an account, please call us at 937-748-8979.